Webinar with Fida Qishta, Filmmaker from Gaza
Saturday, Oct. 9, 2 pm EST
Join a US Boats to Gaza webinar with documentary filmmaker Fida Qishta, who has just returned from several months in Gaza. Fida will speak about the current conditions in Gaza and show clips from footage she filmed after the May 2021 Israeli attacks on Gaza. She will also talk about her upcoming new documentary, We Are Here: Our Dreams Are Not Rubble.
Fida's earlier documentary Where Should the Birds Fly? about the brutal 2009 Israeli attack on Gaza won international acclaim.
Whether or not you can participate in the webinar, we encourage everyone to donate to Fida's new documentary to help with editing and production costs.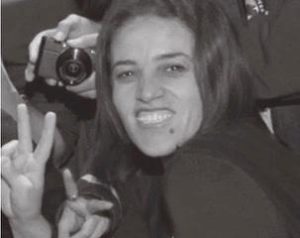 Fida Qishta is an award-winning filmmaker Her full-length documentary, Where Should the Birds Fly?, has won film festival prizes and been translated into Spanish, French, Hebrew, Arabic and Portuguese. It is the story of Israel's years-long siege of Gaza and its 2008-2009 attack, told through the eyes of Mona Samouni, 10 years old, and the filmmaker.
Fida was born and raised in Rafah in Gaza, where she founded The Life Makers Centre/Rafah, an educational center for children. The Centre provides a safe place for children, all of whom have been affected by war, to play, learn, and get needed counseling,
Fida has worked with international human rights observers, documenting daily life under military occupation. Her commentary has been published in The International Herald Tribune/New York Times; video reports have been published in The Guardian and The Observer.
US Boats to Gaza is one of the ten national campaigns in the Gaza Freedom Flotilla coalition. We will sail again to break the illegal Israeli naval blockade of Gaza.
We welcome you to join the campaign to break the painful, damaging, illegal blockade of 1.8 million Palestinians in the open-air prison that is Gaza. Be a part of the journey. Contribute today!